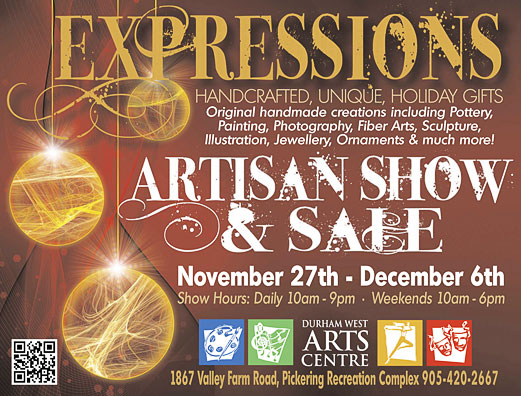 EXPRESSIONS ARTISAN SHOW & SALE
November 27 – December 6, 2015
DWAC's annual 10 day pre-holiday artisan show/sale returns with a wide variety of original, hand-crafted holiday gifts on display and available for purchase made by local artists & artisans. Come visit and select from diverse and unique creations including, pottery, photography, fiber arts, illustrated cards, paintings, and more, many made on site in our Pickering-based pottery/arts studio!
Show hours: Daily 10:00 am – 9:00 pm, Weekends 10:00 am – 6:00 pm.
---
Great News!
Feasibility study to be included in 2016 budget deliberations
MEDIA PDF
Dream of Durham West Arts Centre in Pickering closer to becoming a reality
---
DWAC is currently taking registrations for Pottery and Art Classes for the Winter 2015/16 session. Weekly sessions are available after-school and on Saturdays for children 6+. Both daytime and evening classes available for adults. Download and print registration form or come into the Studio to register. Call 905-420-2667 for more details.
---
CALL FOR ENTRY
2016 DURHAM WEST SPRING STUDIO TOUR
The Durham West Arts Centre is currently seeking applications from professional Ontario artists and artisans for the 8th Annual Spring Studio Tour. The tour takes place this year on Saturday, April 23 & Sunday, April 24, 2016 from 10:00 am to 5:00 pm. The tour is self-guided and free of charge for visitors and is an excellent opportunity for artists to showcase and sell their work from host studios and sites which may otherwise not be regularly open to the public. The application is open to all artists and fine craft artists living and working in the Durham Region or invited guests working within the region.
The DWAC Studio Tour is a juried event. Each year, the jury strives to achieve a fresh and interesting mix of new and returning artists and to include artists working in a variety of media.
Application Deadline: Thursday November 5, 2015
Download Guidelines and application HERE
Please mail the completed application and required support material to:
DWAC Studio Tour
Durham West Arts Centre,
P.O. Box 667, Pickering, ON
L1V 3T3
Artists will be notified of acceptance by December 14, 2015. Artists not accepted for the 2016 Tour will have their cheques returned. Full Studio Tour fee payment is due upon acceptance to the tour. The fee for 2016 is $ 150.00. Artists must also hold a current DWAC Membership (membership form). Please make cheques payable to Durham West Arts Centre.
---
On September 13, Durham West Arts Centre Inc., Durham West Arts Centre Foundation and PineRidge Arts Council polled our 2015 Federal Candidates with this Arts Question.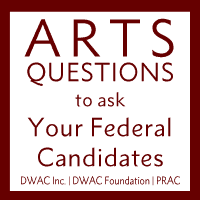 With the 2015 Federal Election fast approaching we would like to hear your view and commitment on the following.

Most Canadians believe that the Arts are important to the Quality of Life, yet funding for the arts takes a back seat.
We were wondering if you will / if you support the Arts and the role it plays in our lifestyle?
Should federal government take the leadership role financially?
Would arts centres be considered infrastructure projects?
Comments you would like to add?
We look forward to your replies and will publish all responses on our websites.
Responses to be posted, click HERE.
---
Lucky Draw
The Durham West Arts Centre 2015 Studio Tour was held the weekend of April 25 and 26th with great weather and excellent attendance. Thirty artists participated in 14 studio locations.
On Friday May 8, 2015, David Green, with the assistance of a City of Pickering staff member, drew six lucky ballots from those visitors who attended artists sites during the Studio Tour and filled out a ballot.
Two $50 Gift Certificates were donated by the Pickering Town Centre and were awarded to: Victoria McDonald, Uxbridge | Diane Beach, Little Brittan
Four draws for $50 Gift Certificates were donated by the Durham West Arts Centre Board of Directors to be put towards a piece of artwork done by one of the Tour artists of their choice. They were awarded to: Roz Franklin, Ajax | Frank F., Pickering | Soultana Del Re, Pickering | Jocelyn Filipowich, Whitby
All winners will be notified by phone or mail.
Expected the Unexpected – at the Upcoming 2015 Durham West Spring Studio Tour
It is time again for the Durham West Art Centre's annual Spring Studio Tour. This year's event will take place on Saturday, April 25 and Sunday, April 26, from 10:00 AM to 5:00 PM. This successful event is returning with an expanded line-up of 30 artists who are showcasing an even greater range of creative works. This free, self-guided tour allows visitors to speak to emerging to senior artists working in a variety of media, including photography, stained glass, pottery, painting, sculpture, jewelry and recycled assemblage. Not only do visitors get the unique opportunity to engage with working artists and invited guests in their studio spaces to discuss techniques and processes, many of the artists will have their presented works available for purchase, adding to the idea of the event as a virtual treasure hunt. Besides the touring artist's studios , we will also feature selected artists at the Cultural Expressions Gallery in Pickering Village as well as at the DWAC Pottery and Arts Studio in the Pickering Recreation Complex. There is a wealth of creativity and talent waiting to be discovered in Durham truly representing our claim to "Expect the Unexpected!"
CLICK HERE FOR MORE INFORMATION
---
Who or What is DWAC?
The Durham West Arts Centre is a 'hub' organization working to establish links with artists, arts groups and arts lovers. We want to meet and talk to the groups and individuals who are willing to help build the infrastructure for a permanent arts centre in Pickering.
Who or What is DWAC Foundation?
Our mandate is to organize, plan, design, fund, contract for, and build a performing and visual arts centre in the western part of the Durham Region, for the benefit of the citizens and arts community in the Durham Region.
The Vision
The arts centre is envisioned to include performing, media, visual arts and multi-purpose spaces serving local and regional audiences and artists, and featuring local, regional, national and international talents.
---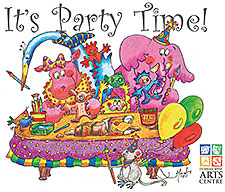 Come Celebrate Your Birthday Party with Creative Clay Play!
Sculpt a hand-built treasure for your Birthday chosen from a selection of varied projects from display models at the Studio.
Schedule: 2 hours – 1 ½ workshop (raw materials, use of Studio tools included) & ½ hour of glaze decoration.
Ages: 6+. Minimum of 8 participants to maximum of 12.
Over 12 participants will require an additional instructor at a cost of $25.00. Upon registration a non-refundable deposit of $30.00 will guarantee the booking.
You may choose to use the Studio's glaze room for continuing your celebration (food, cake, etc.) for an added cost of $10.00 per half hour. Please bring all party supplies with you including a tablecloth.
We recommend guests arrive 15 minutes early to enable the party to start on time and guests should be picked up 15 minutes before end of scheduled time to avoid an additional charge for room usage.
The clay projects will be fired within 1 ½ to 2 weeks and you will be contacted to arrange a convenient date for pick-up of finished works.
DOWNLOAD PDF APPLICATION
---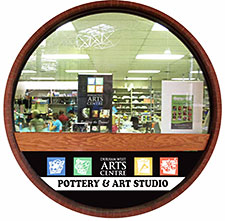 Pickering Recreation Centre
1867 Valley Farm Road,
Pickering, Ontario L1V 1Y7
mapquest
Telephone: 905.420.2667
Mail: P.O. Box 667,
Pickering, ON L1V 3T3
Classes
At the Centre
Durham West Arts Centre is proud to announce our new location and move to the Pickering Potters Studio in the downtown Recreation Complex. This exciting new venture allows DWAC the opportunity to teach, interact and engage the public through dynamic programming. In addition to continuing with the well-established pottery programs, we plan to offer a diverse range of visual arts programming from the studio location.
It will also be the home and office of DWAC, providing us with a central hub from which to continue to build and promote the idea of creating a permanent home for the arts centre here in Pickering.