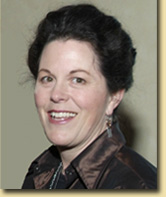 Artist's Statement
In creating our own realities, how utterly human and humourous, we do not recognize our own creations! I sculpt as a tactile experience of the physical world and see the act of sculpting as a micrososm of the choice of realities; imprint, force, structure and my own phrase, emotional architecture. A record of time itself, what you see in my works is a dimensional decision to stop working on them! I see enormous irony in sculpting the intangible, examining the universal and deciphering the energetic connections with which we structure reality.
Artist's Biography
Fine styrene carving introduced her to actor Anthony Quinn with whom she shared several studio sessions.
A Millennium Park project, "Leap of Faith" and numerous private portraits have been balanced by her own works in bronze and stainless steel. Of these, "Ladies - Size 8" were selected for exhibition in Sydney, Australia gaining Ruth a Consulate bursary as the first Canadian participant in "Sculpture-by-the-Sea".
"Willow Vessel" was shown at the Toronto Arts Fair and another bronze, a bust of Al Waxman, was acquired by the Canadian portrait gallery collection in Ottawa.
By invitation, Ruth attended a Fine Arts Trade Mission in Chicago, the APS conference in Boston and was keynote speaker for the Canadian Portrait Society conference in Toronto.
As a finalist for the Rosales Tribute, Ruth travelled to Chandler, Arizona.
Ruth is a member of the International Sculpture Centre, the American Portrait Society, CARFAC and her local Artist's Collective, Gallery 96 in Stratford.
---
The Durham West Arts Centre exists to create, manage, and operate a centre for the advancement and promotion of artistic disciplines, and related activities throughout the community, for the benefit of the residents of the
Regional Municipality of Durham, and the Province of Ontario.
---
Durham West Arts Centre • 364 Kingston Road , Pickering ON Canada L1V 1A2

TEL: Jeremy 905.492.2533 • Erin 905.492.2522 • WEBSITE: dwac.ca
E-MAIL CONTACTS • Jeremy "Boomer" Stacey, Executive Director - Boomer@dwac.ca
• Erin Michel, Project Manager - Erin@dwac.ca • WEBMASTER